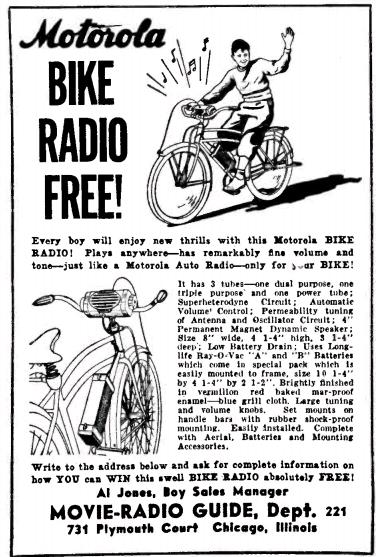 This ad appeared 75 years ago today in Radio Guide magazine, April 26, 1941.  I suspect a lot of boys drooled over the prospect of having a radio on their bike.  For details on how to "win" one "free," they were to write to the Boy Sales Manager of the magazine.  Undoubtedly, they would be told how many subscriptions they would need to sell to win the radio.  I suspect they would have to sell quite a few.  The magazine had a single issue price of ten cents, and an annual subscription was $4.  The radio itself appears to be the Motorola model B-150, with a retail price of $19.95.
The radio was probably a fairly good performer, being a three-tube superhet. Its tube lineup consisted of a 1A7GT, 3A8GT, and 1Q5GT, and had a 4 inch speaker. More information is available at RadioMuseum.org.
The set was powered by a combination A-B battery from Ray-O-Vac, which mounted on the frame of the bicycle. It also featured a whip antenna.  One novel feature of the set is that it had permeability tuning, meaning that the tuning knob adjusted the slug of an inductor, rather than moving a variable capacitor.
You can see a surviving example of the set at OldBike.eu.  Update:  Greg Farmer sent a link to a nice example of the radio at this link.  The radio, along with a bike of the same vintage, was on display at the Pavek Museum of Broadcasting in St. Louis Park, MN.
Click Here For Today's Ripley's Believe It Or Not Cartoon