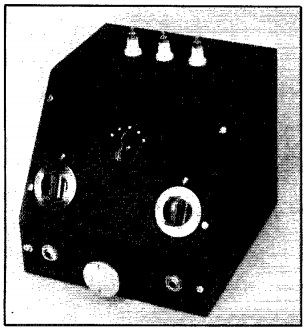 Seventy-five years ago this month, the April 1941 issue of QST carried the plans for this simple one-tube CW transmitter for 80 and 40 meters.
The set was billed as a compact portable transmitter for field or emergency use, but could also function as the control stage of the home station until being put into place for field duty. According to the article, the total cost, including tube and cabinet, was less than $12.
The set required 6 volts for the filament, and 250 volts DC for the B+. This could be derived from batteries, and the article pointed out that this would be good for several hundred hours of intermittent operation. But it was really designed to run from the vibrator power supply of the car radio. The article advised builders to consult with the manufacturer of the car radio to get the wiring diagram, since those could vary considerably. But the car radio's power supply would be expected to have a typical output of 200-250 volts at 50 mA. A single pole double throw switch could be added to the car radio to switch the power from the transmitter to the receiver.
The top of the set had three insulators. Two had connections that would be used with a doublet, and the third was to be used with a single wire antenna. The article noted that the transmitter could tune virtually any antenna.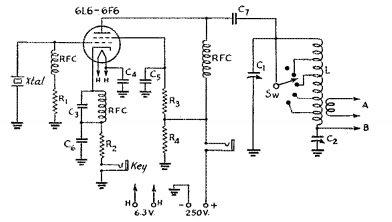 Click Here For Today's Ripley's Believe It Or Not Cartoon