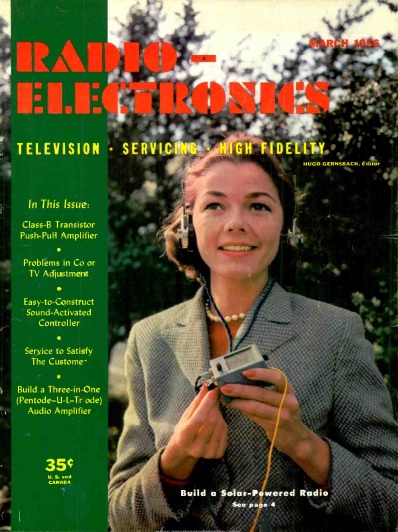 Sixty years ago this month, the March 1956 issue of Radio-Electronics published the plans for this solar powered radio, probably the first instance of a project using a photovoltaic cell for power.
The actual radio receiver was a simple crystal set, using a germanium diode, with a single CK-721 transistor serving as the audio amplifier.  The basic circuit was about the same as the Boys' Life CONELRAD receiver shown here previously, which appeared the same year.
The power came from a type B-15 self-generating selenium photocell, manufactured by International Rectifier. The cell didn't put out the required 1.5 volts, so it was necessary to cut it into four pieces with a hacksaw, and then wire the resulting four smaller cells in series.
For times when the sun wasn't shining, the plans also called for a mercury cell, which could be switched in in place of the solar cell.
A much smaller version of the selenium solar cell can be seen in this Popular Mechanics advertisement for $1.