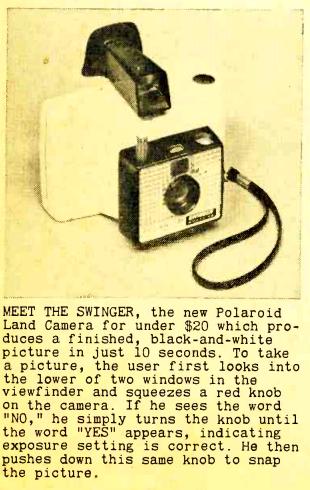 Shown here in the Winter 1966 issue of Elementary Electronics is the Polaroid Swinger camera, which came out in 1965.
Priced at just under $20, the camera was enormously popular. The black and white images developed automatically outside the camera. After snapping the image, the film was removed, and the user had to wait about a minute while it developed. After it did, the film was pulled apart, revealing the image, which then had to be fixed by coating it with a varnish-like compound that came with the film.
The red shutter button could be squeezed, and the camera would indicate "yes" or "no" as to whether the exposure was set correctly.  It accomplished this feat by means of the ingenious mechanism shown below.  Turning the knob adjust the aperture, and by squeezing the knob, it compared the amount of light entering the camera to the light produced by an internal bulb.  When the setting was correct, the internal light caused the word "yes" to appear through the viewfinder.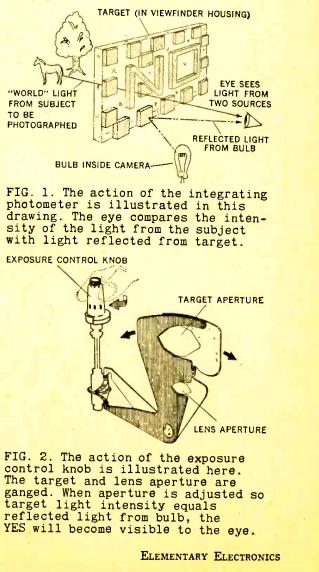 Not surprisingly, the film is unobtanium today.  However, according to some reports, if you find a roll of the old film tucked away, it will probably still produce a surprisingly good image.
Click Here For Today's Ripley's Believe It Or Not Cartoon