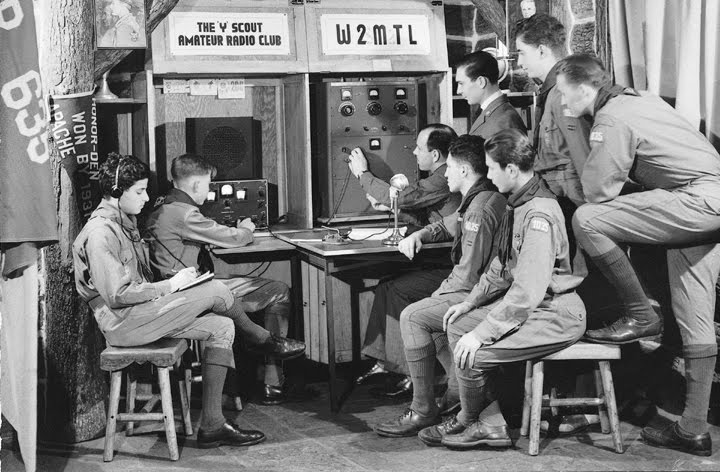 The April 1941 issue of Boys' Life carried this photo of W2MTL, the club station of Explorer Troop (what would later be called a Post) 1035, sponsored by the New York City YMHA, which is today known as the 92nd Street Y.  According to the sign in the background, the licensee of the station was the "Y Scout Amateur Radio Club."  Boys' Life notes that the explorer troop was "one unit of the Scout family" sponsored by the YMHA.  From the barely visible flag, it appears that another unit was Boy Scout Troop 635.  The pennant appears to have been awarded to a "den," indicating that the organization also chartered a Cub Scout pack.
The club must have been fairly new, since the call was not listed in the 1938 call book.  It was still listed as late as 1960.
The call was no longer listed in the  1969 or 1972 call book, although a 1972 Jewish Community Center Program Guide still listed them as having such a program.  At the time the picture was taken, Troop 635 already had a long history in Scouting.  It was organized in 1913, and had the distinction of being the first troop organized by a Jewish community center.
The June 16, 1941, issue of Broadcasting reveals that the station was under the leadership of Jack Trapkin, W2CD, transmitter engineer of WWRL.  In 1942, Trapkin moved to the engineering staff of the CBS network.
W2MTL obviously had a very well equipped station by prewar standards, and I'm sure there's much more to the story.  If you have any additional details or can lead me to other sources, please share them, either in the comments or by e-mail.
Click Here For Today's Ripley's Believe It Or Not Cartoon