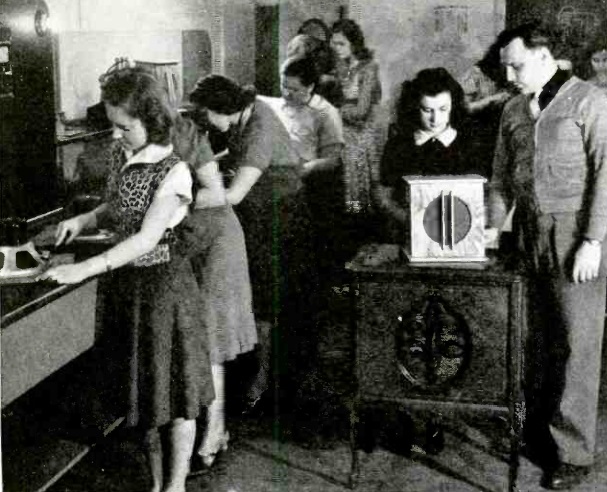 The Pennsylvania students shown here are assembling loudspeaker enclosures for the sound system at the Roaring Spring, Pennsylvania, High School. The project of installing the new sound system was entrusted to the National Youth Administration (NYA). As I wrote in an earlier post,
the NYA was a depression-era program designed to give youth to develop skills in order to take an active part in the national defense program. As reported in the October 1941 issue of Radio News, the program had recently been expanded to cover the radio field, and the high school sound system was one of the first projects undertaken by NYA youth studying radio.
The installation covered 21 rooms in three buildings, one of which was across the street, necessitating the laying of an underground cable. The main console was located in the principal's office, and included two microphone channels, an all-wave receiver, and a turtable capable of playing both 78 and 33 RPM transcriptions. In addition to its public address capabilities, the system was capable of two-way communication from any room. The powerhouse behind the system was a 15 watt audio amplifier employing two 6N7G tubes.
The students' completion of the project was seen by all as a success, and dispelled any possible doubt as to the NYA radio shops' ability to construct and install such equipment. After being placed in service, the equipment had required no service or adjustment.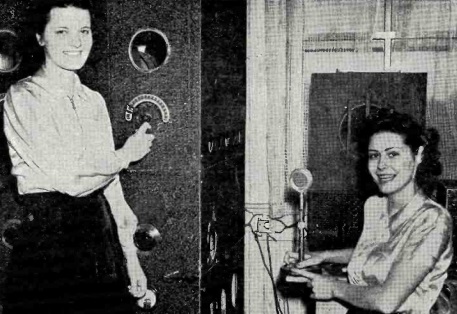 Another way in which the NYA was focusing on radio is shown in this photo from the September, 1940, issue of Radio News.  The Army was in the process of setting up an Amateur Radio network to link Army installations, and it was tapping NYA youth to build that network.  Shown here are Ruth Gaines and Jessie Suddath, both of Georgia, testing the ham gear that they had built.  According to the caption, both were licensed, although their call signs are not stated.
Click Here For Today's Ripley's Believe It Or Not Cartoon