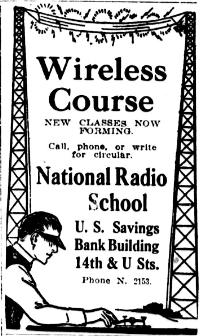 This small ad for the National Radio School appeared a hundred years ago today, in the Washington Times, January 24, 1915.  The ad announces the upcoming wireless course.  This school had recently been formed, and went on to have a long history.  If you were involved in radio or electronics over the next several decades, you probably heard of them.
At some point, the name changed to the National Radio Institute.  It was founded in Washington in 1914 by James E. Smith, who headed up the school until 1968, when it was purchased by McGraw-Hill.  Smith continued as the school's chairman until his death in 1973.  McGraw-Hill began to phase out the school in 1999, and it ceased operations in 2002.
1915 and 1921 call books show the call 3YN assigned to Smith and to the school.  This 1915 listing shows the school's station as licensed to operate on 200, 400, and 1800 meters: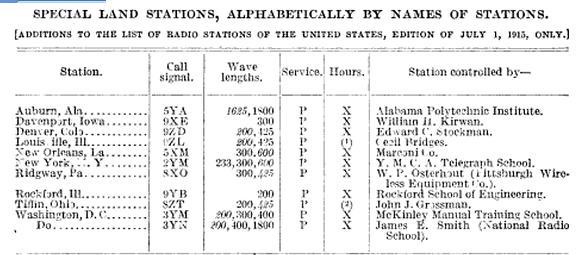 Over the years, the school advertised extensively, and virtually any magazine relating to radio or electronics for several decades contained an ad for NRI.  The ad shown here is from Boys' Life magazine, January 1925, and offered boys the promise of making money in radio.
If the name NRI only vaguely rings a bell, then the name CONAR will probably sound more familiar.  The school sold a wide variety of electronic kits (and some assembled products) under that name.  The CONAR name was never as famous as Heathkit, but it had almost as wide a variety of products.  You can view the 1966 catalog at this link at americanradiohistory.com.
Among hams, one of the most famous (or perhaps infamous) of these products was the "CONAR Twins," a transmitter and receiver designed for the novice ham.  These radios were available in kit form (along with a copy of the ARRL license manual and a key) for $64.  They were also available assembled.  The transmitter used a single tube, a 6DQ6, which put out 15 chirpy watts on 80, 40, and 15.  The receiver, while basic, was actually fairly good.  It was a four-tube superheterodyne covering the same bands.  The two units were available separately as well, with the transmitter selling for $32.50 in kit form, and the receiver for $37.50.  One way the costs were kept down was the use of the same cabinet as most of CONAR's test equipment.  KB8TAD's site shows a nice example of the sets in excellent condition.  The images from the 1966 catalog are shown below.
References
Click Here For Today's Ripley's Believe It Or Not Cartoon