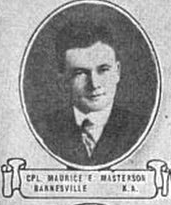 During the centennial of World War 1, this page periodically remembers American servicemen who gave their lives in that war.
Corporal Maurice Masterson, the son of Edward J. Masterson and Florence Dalton, was killed in action on this day 98 years ago.  He was born on August 8, 1895, in Pomeroy, Iowa. The family moved to Barnesville, Minnesota, in 1905, where he and his brothers excelled in school. In 1917, the three brothers dropped out of college to join the Army. Maurice served in the 151st Field Artillery, Rainbow Division.
On September 18, 1918, Cpl. Masterson was severely wounded or gassed.  He was killed in an artillery barrage in France on November 1, 1918.  He is buried at Saint Mary's Cemetery, Barnesville, Minnesota.  American Legion Post 153, Barnesville, Minnesota, is named in his memory.
The photo here is from Soldiers of the Great War, Volume 2, Page 114.
References