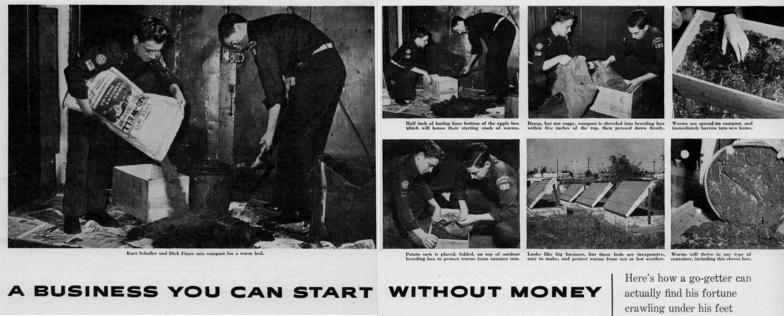 Sixty years ago this month, the April 1956 issue of Boys' Life showed entrepreneurial scouts how to go into business for themselves, with practically zero capital investment, by taking advantage of the fortune crawling under their feet:  By starting their own worm farm.
The magazine explained the whole business from start to marketing their wares.  The initial investment was practically zero, since the entire breeding stock could be harvested from the back yard.
Boys could expect to get about 35 cents per five dozen by packaging them in containers available for about one cent, and the magazine explained the best sources for the containers. The best market was suggested to be sporting goods stores and bait and tackle shops. It advised boys to "call on all the stores you can reach and begin to establish a trade. Let them know that you can supply all the worms they need on short notice so they won't have to stock a large supply at any one time." The article suggested that it might be necessary to leave them on consignment. Later on, they could expand to neighboring towns, and even advertise nationally, with a suggested price of about $4 per thousand.
"It takes time to build up a constant source of orders, but since the worms are doing most of the work at no cost to you there is no labor problem or upkeep to worry about."
Click Here For Today's Ripley's Believe It Or Not Cartoon