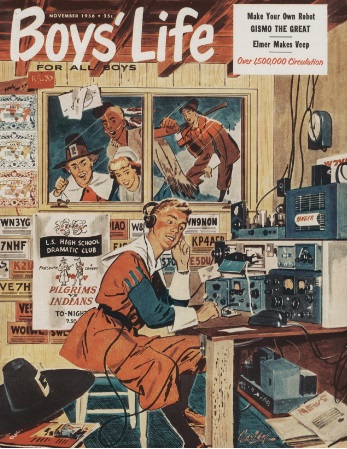 Sixty years ago this month, the Boys' Life Radio contest was once again underway, and radio made the cover of the November 1956 issue of Boys' Life, depicting a ham who took a break from his duties in the school Thanksgiving  play to work some DX.
This cover was the work of frequent Boys' Life artist Harold Eldridge. According to the magazine's description:
Miles Standish thought he had it touch, having to defend the pilgrims with just a handful of soldiers armed with blunderbusses. But pity the poor dramatics coach who has his Indians better trained than his hams. That friendly Algonkian in the window probably pictures the coach back in the high school auditorium, sweaty hands clutching the curtain ropes, but not John Alden, no Priscilla Mullen, and no Miles Standish yet appearing in the wings.
According to the magazine, the artist never did tell whether the DX'ing ham ever got back in time to cut some turkey on stage.