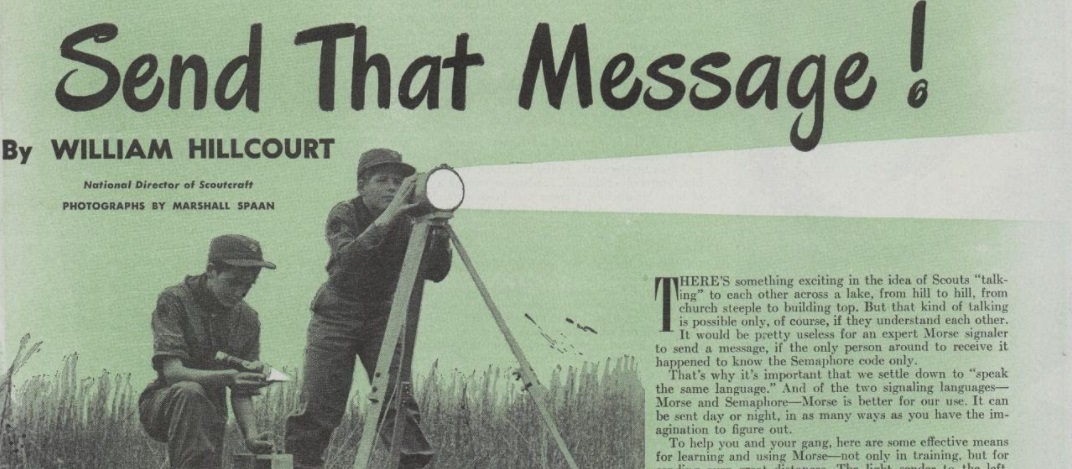 Seventy years ago this month, the February 1948 issue of Boys' Life carried this feature by William "Green Bar Bill" Hillcourt teaching scouts the finer points of signalling by Morse code. He notes that there were two possibilities–semaphore and Morse–but that it was important for those on both ends of the message to "speak the same language." He concludes that Morse was the superior option since "it can be sent day or night, in as many ways as you have the imagination to figure out."
He includes the plans for this signal light, with a range of three miles. It consists of a 6-volt sealed beam headlamp, mounted in a number 10 tin can. The headlamp is held in place with corrugated cardboard and then glued, as shown at left. He includes plans for the tripod base shown above.
While less common these days, round sealed beam headlights are still readily available, such as this one which can be ordered on Amazon. It's probably possible to pull one from a junkyard at even lower cost.  Of course, it's likely the modern equivalent will be 12 volts, rather than the 6 volt model shown in the magazine.    Power could be provided with 8 alkaline D-cells in series, which can be mounted in holders such as this one.  Another alternative would be a small rechargeable battery, or even an old car battery.
The magazine shows the plans for a simple code key, or an inexpensive one can be purchased.  But the article also proposed another method, similar to an idea shown here previously.  "Since one of the hardest things about signaling is learning to receive, we've included an 'automatic' sender that enables a Tenderfoot to send a Morse message for others to receive–as long as he has learned to spell with ordinary letters," and that device is shown below.  The Tenderfoot merely traces along the path of the letters, resulting in flawless Morse.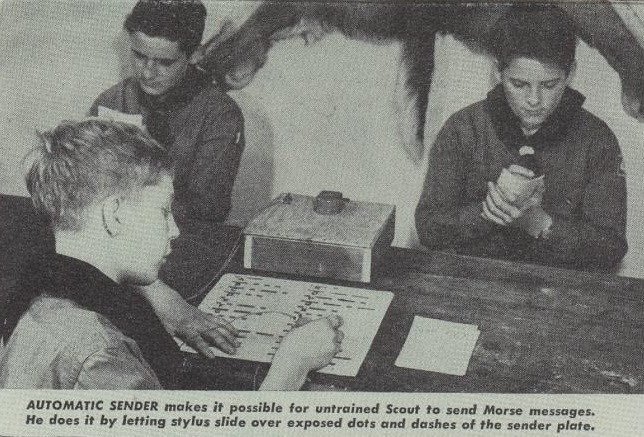 For more information about the Signs, Signals, and Codes Merit Badge, see my earlier posts here and here.  And for more information about visual signaling, see this post.