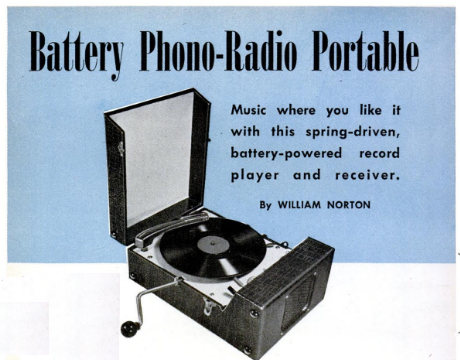 Seventy years ago this month, the March 1947 issue of Popular Science showed how to put together this portable radio phonograph.  It was by no means deluxe, but it was the epitome of portability.  The magazine noted that in most cases, the "portable" terminology meant only that a handle had been slapped onto the cabinet, and the set was still tethered by the need for electrical current.   But in this case, a crank-up phonograph motor and a one-tube battery powered amplifier meant that it was truly portable.
The electronics consisted of a 1D8GT tube powered by two batteries, a 1.5 volt cell for the filaments, and two 67.5 volt batteries providing 135 volts B+, although it noted that it would work with as little as 90 volts.
The magazine noted that the spring motor should be set to 80, which would result in it running at the desired 78 RPM with a record on the platter.
The radio was simply a crystal set with a fixed crystal, which could be switched in place of the phonograph's pickup cartridge.  While the radio strength was not great, it would serve to pull in local stations, especially with an external antenna and ground of some sort.