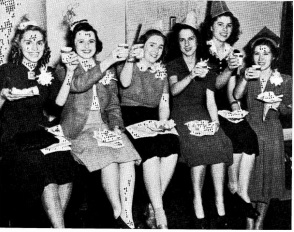 Radio station KXSP, Omaha, first came on the air in 1923. The station is probably best known for the WOW call letters that it bore from 1926 to 1999, representing its owner, Woodmen of the World Life Insurance Society. When it first came on the air, those call letters were not available, since they were assigned to the steamer Henry J. Bibble. Instead, the station signed on as WOAW. When that ship was scrapped in 1926, the station took over those call letters.
When the station reached the age of majority eighteen years later, it held a birthday party, and invited six young Omaha women who were born the same day. The six are shown here, and they are, from left to right, Blanche Zaloudek, Roslyn Levy, Jacqueline Giles, Helen Rummelhart, Elaine Kinzli and De Lorse McCarty. They appeared in the May, 1941, issue of the station's program guide, Radio News Tower.
Seven years later, the young woman on the left had married, and was known as Blanche Howard. Her uncle, J.F. Zaloudek, died in Kansas without a will, and Blanche was one of the heirs. She inherited a portion of some property in Wilson, Kansas. Shortly thereafter, Blanche, along with one of the other heirs, was back in court. It turned out that her uncle had a judgment against his brother, another one of the heirs. She went to court to seek to enforce this judgment, and the case ultimately went to the Kansas Supreme Court. In its opinion in the case, Zaloudek v. Zaloudek, 171 Kan. 72, 229 P.2d 727 (1951), that court held that Blanche and the other heir didn't have standing to revive the judgment against the brother.
Click Here For Today's Ripley's Believe It Or Not Cartoon