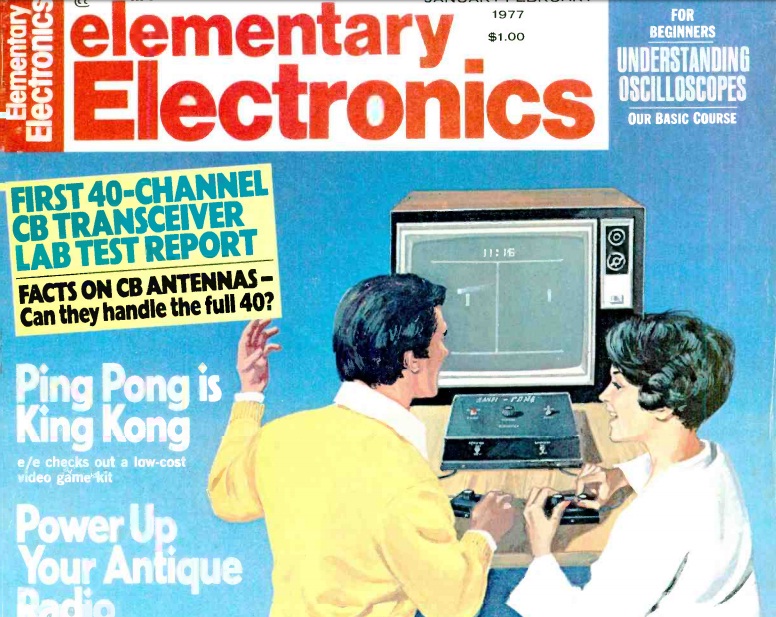 Forty years ago this month, this couple is enjoying a friendly game of Pong, as shown on the cover of the January-February 1977 issue of Elementary Electronics.
As detailed in the accompanying article, they put the game together themselves, thanks to the Interfab Pong-IV video game kit. The unit contained 43 integrated circuits, and came in three forms. For the purist kit builders, the set came with all of the parts, and the builder had to populate the circuit board and solder them. To save a considerable amount of labor, it was also available with the board pre-populated with parts, held in place by a plastic blister pack. The builder then merely had to solder the multitude of small connections and then remove the plastic. Finally, it was available in semi-kit form, with the circuit board already soldered, and only minimal mechanical assembly required.
The kit was originally marketed with a built-in UHF transmitter to hook directly to the TV. However, the FCC cracked down and required type acceptance, which wasn't economically viable. Therefore, the PC board was all ready to go, and the manufacturer provided a parts list and instructions to install the transmitter, using a 2N5770 transistor and a few other parts. Other options were to separately purchase a UHF transmitter, for a cost of about $8.50, or tap right into the TV's video amplifier (this was before the days of most TV's having a video input jack).
The kit was offered by the Interfab Corp., of Laguna Niguel, California. The completed kit sold for $89.50, with the less assembled versions being about $10 less.