Fifty years ago this month, the January-February 1968 issue of Radio TV Experimenter devoted a considerable number of its pages to Amateur Radio QRP (low power) operation.
At the time, "QRP" generally referred to power levels of under 100 watts, but the introductory article by Robert M. Brown, K2ZSQ, revealed that many in what was known in ham circles as "that crazy QRP crowd" were seeing what could be done with flea-power setups, often consisting of a single transistor, IC, or tube.  He included these diagrams of minimalist one-transistor QRP transmitters: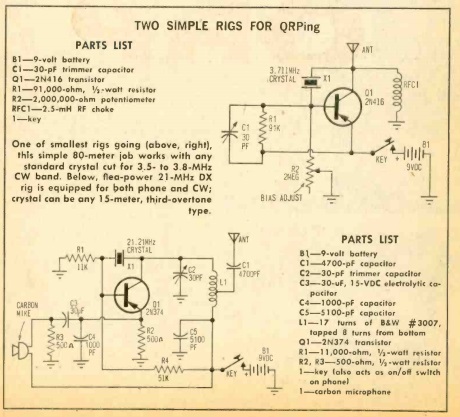 The cover feature was the "Mini-Mite," a QRP transmitter designed by Howard Pyle, W7OE. This was a 4-band transmitter for 80, 40, 20, and 15 meters. The author reported that the set ran an input power of 1.2 watts with a 6 volt power supply, or up to 1.8 watts with a 9 volt supply. His best DX was 1100 miles on 15 meters, 600 miles on 20, 300 miles on 40, and a respectable 200 miles on 80.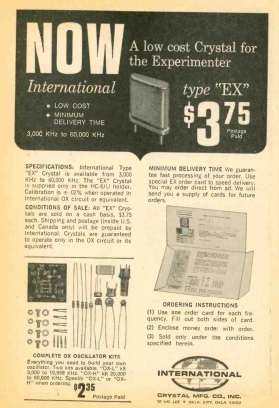 The transmitter actually consisted of four transmitters, since it used four of the ubiquitous International Crystal oscillator module kits, and ad for which is shown here from the same magazine. The oscillator cost $2.35, and an additional $3.75 for the necessary crystal. Essentially the oscillators, even though designed for test circuits, were functioning as transmitters, with just a bit of external matching network before the antenna. To switch bands, one transmitter was switched out of the circuit, and one for another band switched in.
It should be noted that it's likely that none of these 1968 circuits would meet modern spectral purity requirements. Chances are, a bit more external filtering would be required. But the concept shown here is recognizable in many minimalist QRP rigs that are once again in style by "that crazy QRP crowd."