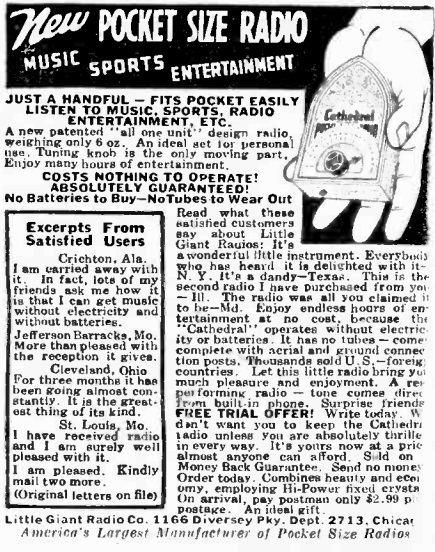 This ad for a "Cathedral" radio from the Little Giant Radio Company of 1166 Diversey Pky, Chicago appeared in Radio Guide 80 years ago today, November 20, 1937.
The ad praises the set in near miraculous terms, and contains a number of glowing endorsements. Of course, the set is a simple crystal set. The "cabinet", it turns out, is made of cardboard, and the earphone is mounted permanently right on the back. So to listen, you have to hold the whole radio up to your head.  The set had two large alligator clips, presumably to attach to an antenna and ground.  But it's just $2.95, they would send it C.O.D., and your satisfaction was guaranteed.
More informaton, and a picture of the set, can be found in Volume 2 of Crystal Clear: Vintage American Crystal Sets, Crystal Detectors, and Crystals.  (Volume 1 and Volume 2 of that set are both available on Amazon.) You can also see some more photos of the set at this link.