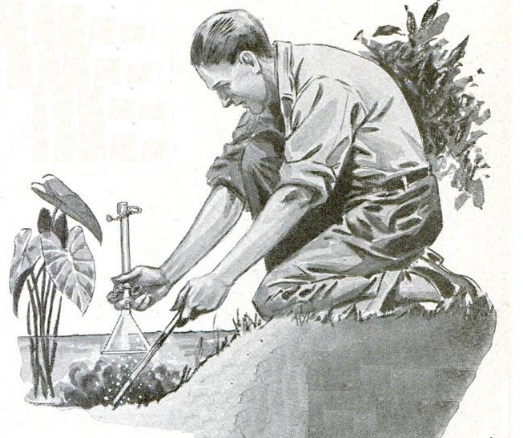 With it being unfairly accused of responsibility for many a UFO sighting, the humble substance known as swamp gas today has an undeservedly bad reputation. But this was not the case for this gentleman using swamp gas as part of his scientific inquiry, following the plans set forth in the November 1937 issue of Popular Science, in an article with the title of "Fun With Explosive Gasses." With a title like that, you can bet that it's going to appear on these pages.  The article notes that hydrocarbons can be the subject of many spectacular experiments by the amateur chemist, and details a number of explosively good experiments.
The article begins tantalyzingly with some of the possibilities:
Would you like to get gas from coal without heating the coal? To make an inflammable gas that will dissolve in certain liquids as easily as sugar does in coffee? To produce a gas that burns with a flame you can hardly perceive? Or to create fiery bublles of gas, jumping about like grasshoppers, from simple everyday chemicals? These are some of the curious and interesting experiments with hydrocarbon gasses that any amateur chemist can easily perform.
The gentleman in the illustration is collecting methane, the gas that bubbles up through the water of marshes. He is collecting it by stirring up the muddy bottom and trapping the ascending bubbles under an inverted funnel.
For those without a nearby swamp, the article also explains how to mix up a batch in the lab.
The article also explains how to make acetylene. This involves first creating some chlorine gas, capturing it in a bottle, and then adding some calcium carbide and water. As the resulting acetyline reacts with the chlorine gas, it produces a flash of light and a tiny cloud of soot. "With the bombardment proceeding at the rate of several explosions a second, the bottle resembles a miniature battlefield."
For the aspiring young mad scientist, this article should be great inspiration for a first-place science fair project.