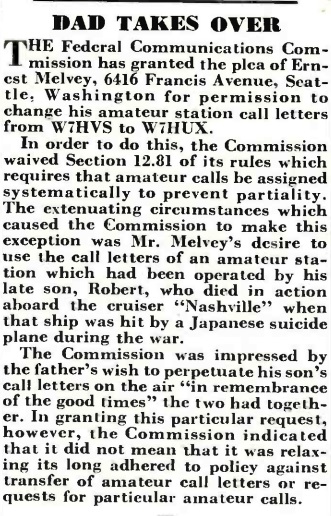 The October 1947 issue of Radio News contains this report of a rare case of the FCC issuing a specially requested amateur callsign prior to the "vanity" callsign programs of later decades.
Ernest Melvey, formerly W7HVS, of 6416 Francis Avenue, Seattle, Washington, requested a waiver of the rule requiring calls to be assigned systematically.  Specifically, he requested the call sign of his son, U.S. Naval Reserve Radioman Second Class Robert Melvey, W7HUX, who had been killed in action, along with 132 other sailors, when the cruiser Nashville had been hit by a Japanese kamikaze plane on December 13, 1944.
The elder Melvey had made the request "in remembrance of the good times," and the FCC was sympathetic to the father's request to perpetuate his son's call letters on the air.  The FCC granted the request, but "did not mean that it was relaxing its long adhered to policy against transfer of amateur call letters or requests for particular amateur calls."
The younger Melvey is interred at Evergreen-Washelli Memorial Park, Seattle.