x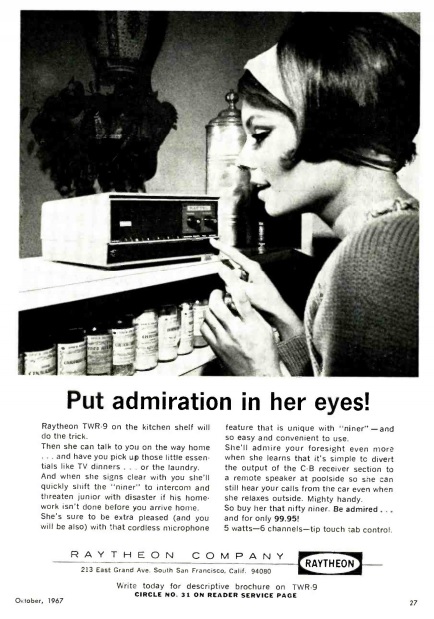 According to this ad from the October 1967 issue of Popular Electronics, installing one of these babies above the kitchen spice rack would not only earn the little woman's admiration, but would keep the household running like a well-oiled machine.
Shown is the Raytheon TWR-9, which was a 6-channel, 5-watt CB transceiver, complete with cordless microphone and "touch tap control."  With the CB radio, "she can talk to you on the way home, and have you pick up those little essentials like TV dinners . . . or the laundry."
But there was more that the set could do.  It included an intercom function, so as soon as she signed off, she could "threaten junior with disaster if his homework isn't done before you arrive home."
And it didn't keep her tied down to the kitchen.  She would have even more admiration "when she learns that it's simple to divert the output of the CB receiver section to a remote speaker at poolside so she can still hear your calls from the car even when she relaxes outside."
A pristine example of this radio can be seen at this site.