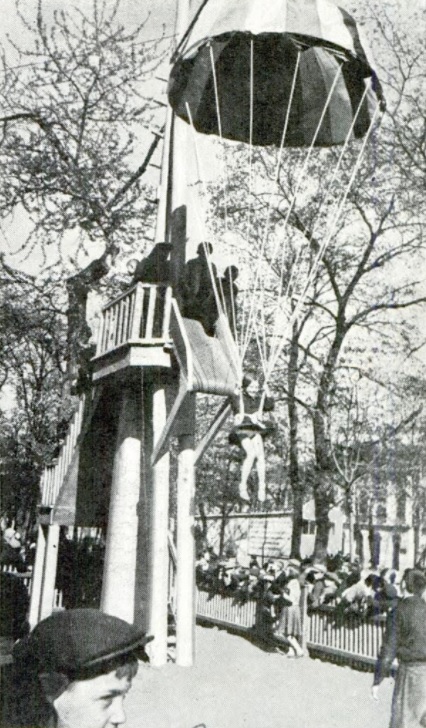 This photo should put to rest, once and for all, the myth that commie kids never got to have any fun. Eighty years ago, parents the world over apparently weren't quite as concerned that their children be protected from all conceivable dangers. Today, we might worry that the playground slide is too dangerous, but at least it deposits Junior in very close proximity to terra firma.
But they didn't worry about things like that in 1937, and they certainly didn't worry about it in the glorious Soviet Union.
In this Moscow park, the slide ended twelve feet above the ground, and the kids just had to trust the laws of aerodynamics to see them safely to the ground.  The accompanying text in the October 1937 issue of Popular Mechanics notes that this was one of the park's most popular features.
The first woman in space, Valentina Tereshkova, was born in 1937, so my first hunch was wrong, since the young comrade shown in this 1937 photo obviously wasn't born in 1937. But Comrade Valentina Vladimirovna was an amateur skydiver when, as a textile worker, she was inducted into the Cosmonaut Corps.  And there is definitely a family resemblance.
I'm sticking to my theory that the young comrade jumping from the slide is the future cosmonaut's older sister.
In any event, if you have kids jumping off twelve foot slides, Hitler should have known that he didn't stand a chance.