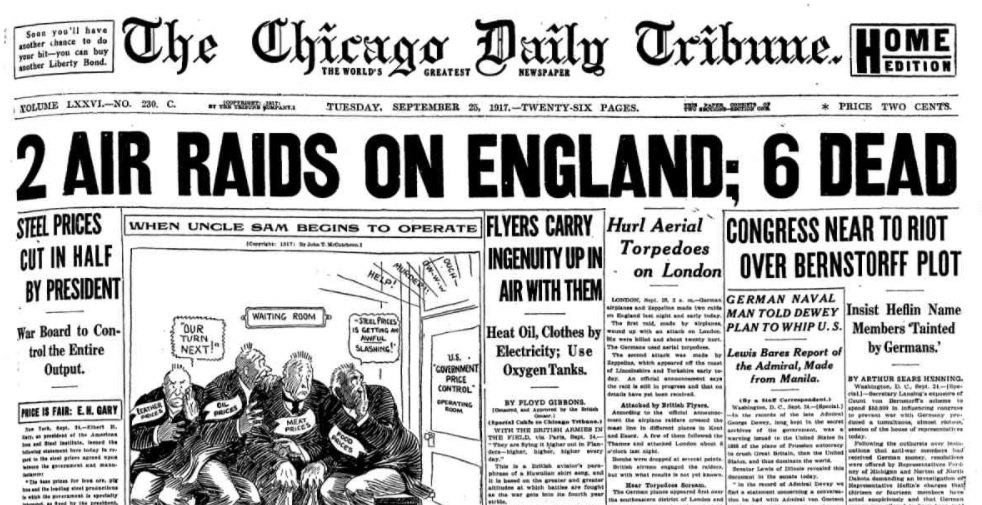 x
One hundred years ago today, the September 25, 1917, issue of the Chicago Tribune carried this headline of a German air raid earlier that day (3:00 AM London time) on London.
The newspaper reported that the first raid was made by airplanes and resulted in six deaths and about twenty injuries.  This was followed by a Zeppelin attack which first appeared off the coast of Lincolnshire and Yorkshire.
The British government had set up a rudimentary civil defense organization in the summer of 1917, with about 200 observation posts set up. They reported by telephone to military headquarters, and fighter squadrons and spotlights were called into action to shoot down the invading craft. Street lights in central London were turned off at night, and a lake was drained to prevent its distinctive shape from serving as a landmark.
There was, however, no method in place to warn civilians. However, civilians knew that the Germans needed moonlight and good weather. Therefore, many Londoners took shelter in underground stations on nights when bombing seemed likely. It was estimated that some 300,000 Londoners took refuge in these stations, with another half million in their cellars.
References