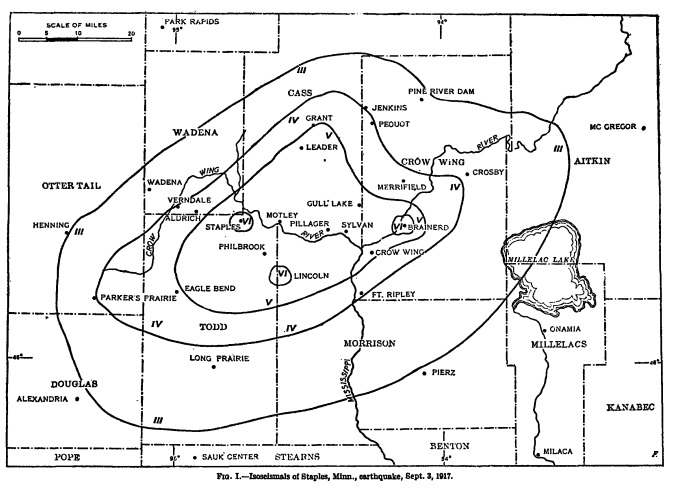 If you don't like earthquakes, then Minnesota is about the best place on earth, since earthquakes are extremely rare.  However, they're not unheard of, and today marks the 100th anniversary of one of the largest, the Staples Earthquake of September 3, 1917.
The earthquake was described by geology Professor C.J. Posey of the University of Minnesota in an article in the November, 1917 issue of Monthly Weather Review. According to Prof. Posey, the earthquake, the exact causes of which were obscure, hit at about 3:30 PM and was felt in central Minnesota. While there were no written accounts of earlier earthquakes, after the quake, pioneers came forward with reports of smaller earthquakes in 1860 and 1870.
The 1917 quake was felt in places approximately 110 miles apart, over an area of about 10,000 square miles. The duration was about 10 seconds, and observers reported a rumbling noise similar to an incoming train. Dishes and pans were rattled in Alexandria, and bricks fell from a chimney in Brainerd. In Staples, where the earthquake was strongest, walls were cracked and a cement floor cracked. Despite earlier press reports, no windows were broken by the quake.
The quake is estimated to have measured 4.3 on the modern Richter scale.