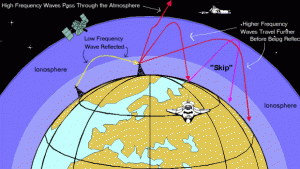 On the day of the eclipse, you will be able to view my radio signals live as I send transmissions to determine how the ionosphere is reacting to the eclipse. The map and list shown below will be constantly updated. The map will incorrectly show that my signals are originating from Minnesota, but my signals will actually be originating in Hastings, Nebraska. The locations of the receiving stations will be correctly shown on the map. If you want to view this as a separate web page, go to:  http://www.reversebeacon.net/dxsd1/dxsd1.php?f=0&t=dx&c=W0IS
I predict that during as the eclipse begins in Oregon, propagation will be enhanced toward the west, and as it moves to the east, propagation will be enhanced in that direction.  You will be able to follow this live at this site.
If you have a shortwave receiver, you will also be able to hear me directly on the frequencies listed above.  Transmissions will be very short, so tune to the frequency of the last transmission and listen.  The receiver should be set for CW/SSB reception.  You will hear me send in Morse code TEST DE W0IS:

Even if you don't have a shortwave receiver, you can tune in using one of the many shortwave receivers that are connected to the Internet at WebSDR.org.  Pick a receiver close to one of the locations where my signals are shown as being received on the map above.
For other ways that you can "listen" the eclipse by radio, please visit my Eclipse Radio Experiments page.