Seventy-five years ago today, the May 24, 1942, issue of the Chicago Tribune carried this feature about the shortwave program Command Performance, U.S.A., which began each week with the words, "Command Performance, U.S.A. The greatest entertainment in America as requested by you the fighting forces of America throughout the world, this week and every week until it's over, over there."
The article noted that even though the program was intended for servicemen overseas, many Americans with shortwave receivers on the homefront had discovered it and were regularly tuning in.
The programs were transcribed in New York and Hollywood, and featured the biggest stars of the entertainment world offering their talents without charge. The article noted that "sometimes the language on these shows is just a little more robust than is passed by standard broadcasting stations. Jack Benny, as we recall, last Sunday night encouraged our fighting men to 'give 'em hell.'"
The newspaper carried the schedule shown below of the stations covering the show, along with times and frequencies. It noted that some of the beams were not heard well in the Midwest, but pointed out that many were. For example, it noted that the 10:30 PM broadcast to Central and South America was being heard well in Chicago.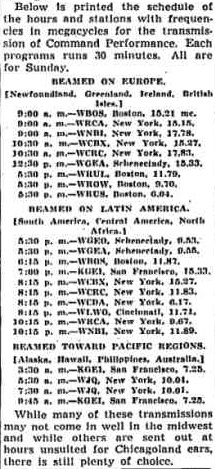 In addition to Command Performance, special news and sports programs were broadcast for the military, and some domestic programs were rebroadcast.