The Coronation of King George VI and Queen Elizabeth (the mother and father of the current Monarch) took place on this date 80 years ago today, on May 12, 1937.
King George V had died on January 20, 1936, at which time Edward VIII assumed the throne. Shortly thereafter, he caused a constitutional crisis after announcing his plans to marry American divorcee Wallis Simpson. The crisis was resolved by his abdication on December 11, 1936, at which time George VI assumed the throne.
Edward's coronation was originally scheduled for May 12, 1937, and the event went on as scheduled, with George rather than Edward being crowned.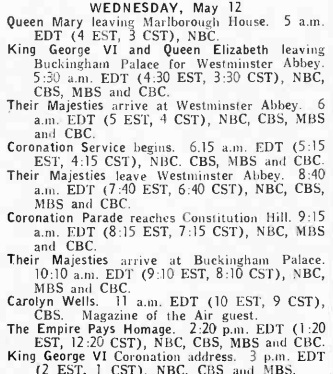 The event was broadcast live by radio in America. Radio Guide for the week ending May 15, 1937 predicted that the event would be "without doubt, radio's biggest show–the 'crowning event' in the twenty-odd years of radio broadcasting's existence." The magazine reported that there would be a battery of microphones in place to bring the scene to listeners all over the world." NBC and CBS planned six hours of continuous coverage.