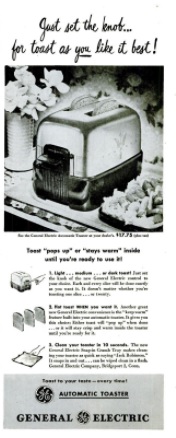 This ad for a humble toaster appeared 70 years ago in the May 12, 1947, issue of Life magazine.
Made in the USA, in a factory owned by General Electric, the toaster is undoubtedly well made.  It's undoubtedly heavy, reliable, and probably made excellent toast.  The accompanying text touted the fact that it was adjustable, and the toast would be done exactly how you wanted it, light, medium, or dark.  The snap-in crumb tray allowed it to be cleaned in ten seconds.  And it even had another feature not found in modern toasters, the ability to have the toast either pop up when finished, or stay inside to keep warm until it was needed.
In the unlikely event that it broke, there were shops where you could take your toaster to be repaired.
In short, it was probably better than a toaster you would buy today, and it's easy to pine for that simpler time when toasters were better.  Until you look at the price.
This simple toaster cost $17.75.  To put it another way, you could buy it with eighteen silver dollars, and those silver dollars would set you back exactly $18 in paper currency.  Those same eighteen silver dollars today would cost you over $300.
So yes, the toaster 70 years ago was better than the typical toaster you would buy today.  Today, you would probably buy a model similar to the ones shown below.
Yes, the 1947 version was probably better. But it was also a lot more expensive.