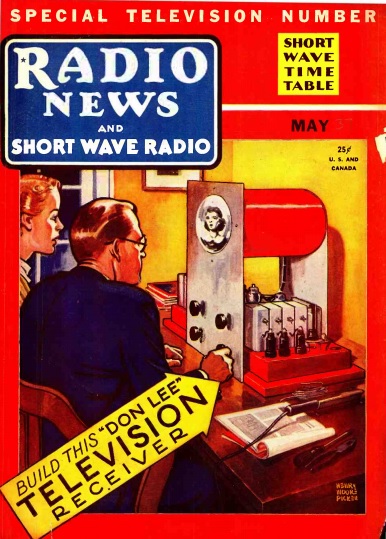 Eighty years ago this month, the May 1937 issue of Radio News carried an ambitious construction project, this television receiver. TV receivers had been popular projects in earlier radio magazines, but the earlier ones were all mechanical televisions, employing a spinning Nipkow disk.
This set was all electronic, employing a cathode ray tube.  The construction article did not have an individual byline.  Instead, it was attributed only to "the Don Lee Television Staff," referring to the Los Angeles broadcaster and licensee of W6XAO.
The plans for this set were also included in other magazines, and the broadcaster also made it available in kit form.
While the receiver was all electronic, it appears that the camera was still a mechanical device.  A spinning disk was used to produce a flying spot to convert previously filmed footage to a video signal.  Shortly thereafter, the station appears to have adopted an electronic camera.
The set, including both RF and video sections, contained a total of 14 tubes in addition to the CRT.  It did not contain an audio section.  Presumably, accompanying audio was received on a separate radio receiver.