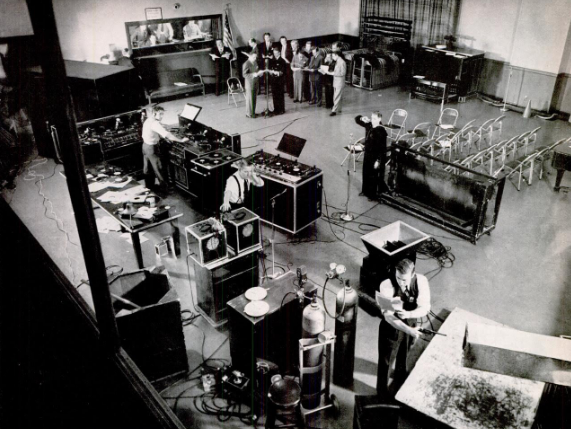 Seventy-five years ago, this day's issue of Life Magazine, April 27, 1942, carried a photo essay about American radio as it went to war.  The article claimed that war marked the end of a "rich era" which brought fresh problems to the medium. It predicted, with little supporting evidence, that declining advertising revenues were on the way. It asserted that "war has thrown new problems at radio–of presenting fact and propaganda, of keeping commercialism and patriotism decently separated, of informing and stimulating the public." It acknowledged a few bright points, such as the program "This Is War," whose production is shown above.
It carried summaries of the current offerings, such as comedy, soap operas, and music, and asserted that programming often catered to the lowest common denominator.
The most enlightening part of the feature was the magazine's look at what it viewed as a typical small station, WGAC, Augusta, Georgia, which then ran 250 watts from 6:30 AM to Midnight.  It carried the NBC Blue network, and had a range of about 60 miles day, 15 miles night.
The station is currently licensed to  Beasley Broadcast Group, Inc. and broadcasts on 580 kHz, 5000 watts daytime, 840 watts nighttime.