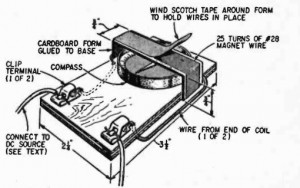 Students looking for a simple but meaningful science fair project involving electricity won't go wrong in constructing a simple galvanometer. The instrument can easily be constructed in an evening at little or no cost, and will prove to be very sensitive in detecting even small electrical currents.
The plans shown here appeared fifty years ago in the April-May issue of Radio TV Experimenter.  The plans are very straightforward, and most students can probably figure it out simply by looking at the diagram here.  It consists of a normal compass (even the most inexpensive toy version will work just fine) surrounded by a coil of wire.  When hooked to a battery, the compass will immediately deflect.
The sensitivity of the instrument is illustrated by using it to test a "dead" battery.  Even though an old battery is incapable of putting out enough current to run anything, it will still show a deflection if hooked to the galvanometer.
For students wanting to do something a bit more extraordinary, the homemade galvanometer can be paired up with one of the homemade batteries we previously profiled.  Most of the parts can be found around the house or at the closest dollar store.  Just about any type of insulated wire will work just fine.  If you can't find any wire at the dollar store, you should be able to find some donor electronic device at the dollar store and you can scavenge the wire from it.  They're not really necessary for the project, but if you want to match the design of the one shown here, the two "Fahnestock Clips" for hooking up the battery are available at Amazon.