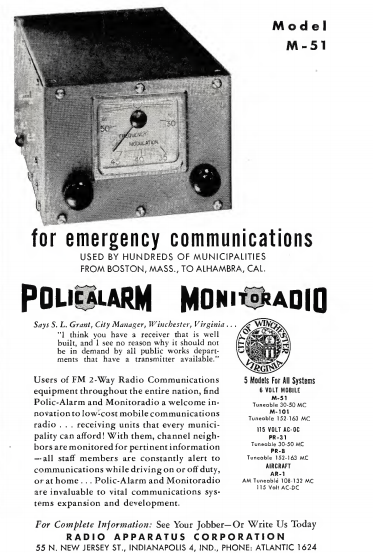 Sixty five years ago this month, the March 1952 issue of FM-TV magazine carried this ad from the Radio Apparatus Corporation of Indianapolis, Indiana, for its monitor receivers, sold under the POLICALARM and MONITORADIO trademarks.  Five models were available.  For the 30-50 and 152-163 MHz FM public service bands, both 6 volt and 115 volt models were available.  For the AM aircraft band, a 115 volt model was available, covering 108-132 MHz.  All were continuously tunable.
The sets were marketed to police and public service agencies for two purposes.  First, "channel neighbors are monitored for pertinent information."  In addition,  staff could have receivers in their homes or vehicles to be "constantly alert to communications while driving on or off duty, or at home."
The ad even carried a testimonial from the city manager of Winchester, Virginia, who thought "you have a receiver that is well built, and I see no reason why it should not be in demand by all public works departments that have a transmitter available."
There's no indication that the City of Winchester actually bought one, but the city manager said he could see no reason why other cities wouldn't want one. The ad did note that the receivers were in use by hundreds of municipalities "from Boston, Mass., to Alhambra, Cal."
The 120 volt units appear to use the "POLICALARM" name, while the mobile units were "MONITORADIO."  An example of one of the 120 volt units can be found at this eBay image.  A picture of the 120 volt Monitoradio AR-1 aircraft receiver can be found at The Radio Museum.  The set pictured is one of the 6 volt models, all of which had the same styling.  The units designed for household power resemble a broadcast receiver, with Bakelite cabinets.
Radio Apparatus Corporation later became part of Regency.