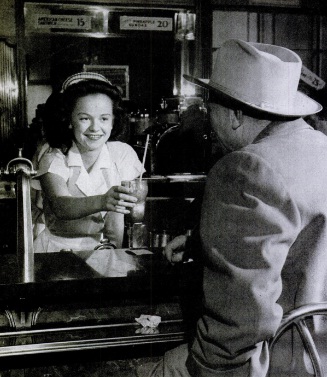 Shown here 70 years ago at the soda fountain of a drug store near the U.S. Supreme Court is Associate Justice William O. Douglas.
The 17 year old soda jerk serving him is his daughter, Mildred Douglas, and the picture appeared in the February 24, 1947, issue of Life magazine. According to the magazine, she was somewhat abashed by the publicity, and announced that she took the job for the money, earning 65 cents per hour. Her younger brother, Bill, 14, had a paper route.
Douglas was four times married and three times divorced. He divorced Mildred's mother, also named Mildred, in 1953.  The children were subsequently estranged from their father, and the younger Mildred was later quoted as saying that the Justice "never talked to us like we were people" that "when he got angry at us, which was often over the slightest things, he would simply not speak to us for days on end," and that she "didn't like him very much because of the way he treated my mother."
When the elder Mildred died, the Justice was not immediately informed, since neither sibling felt the desire to inform him.