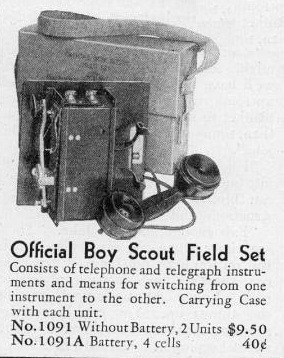 Eighty years ago this month, the January 1937 issue of Boys' Life carried this ad for the official BSA field set, a field telephone and telegraph.  For $9.50, a scout could acquire two such units.  The possibilities for use during hiking and camping, or between two friends' houses, seem limitless.
More details are given in an ad appearing in the February 1934 issue, which reveals that the set is manufactured by the American Electric Company, of 1033 West Van Buren Street, Chicago, "one of the world's foremost makers of commercial telephone equipment."  Contained in a durable khaki colored weatherproof case having a strong carrying strap, the set was ready for use at any time by simply connecting to line wires.  The set was said to have a range to be able to signal and talk clearly over a thousand feet.  The set was switched from telephone to telegraph simply by switching the key into the telegraph position.
The set was patented under US Patent 2072264, which described the set as being "inexpensively and ruggedly built to fill the need for such an assembly by Boy Scout organizations and others having need for inexpensive equipment which may be employed to establish temporary or permanent telephone-telegraph communication between two points."
The only evidence of a surviving example I was able to find online was this eBay listing, which unfortunately contains only a photo of the unit in the closed position.
A resourceful Boy Scout owning such a telephone probably wouldn't have had much trouble figuring out the Quist Quiz which appeared in the December 1956 issue of QST: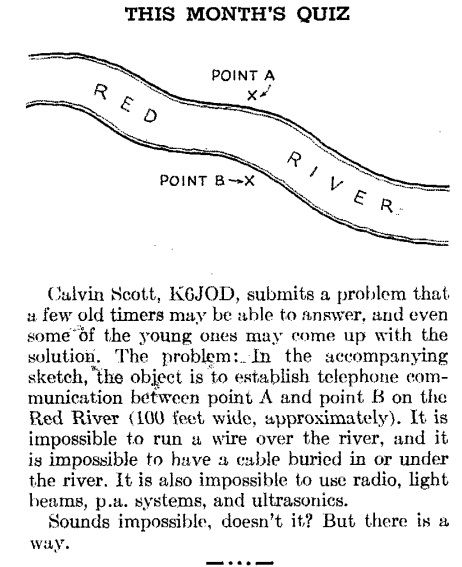 Two Scouts, one on each side of the river, are equipped with their official BSA field telephone-telegraph sets.  Without crossing the river or running a wire across the river, how can they hook up the phones?
Loyal readers of OneTubeRadio.com already know the answer, since we previously showed a similar system.  If you missed it, you'll need to wait until tomorrow to see the answer.