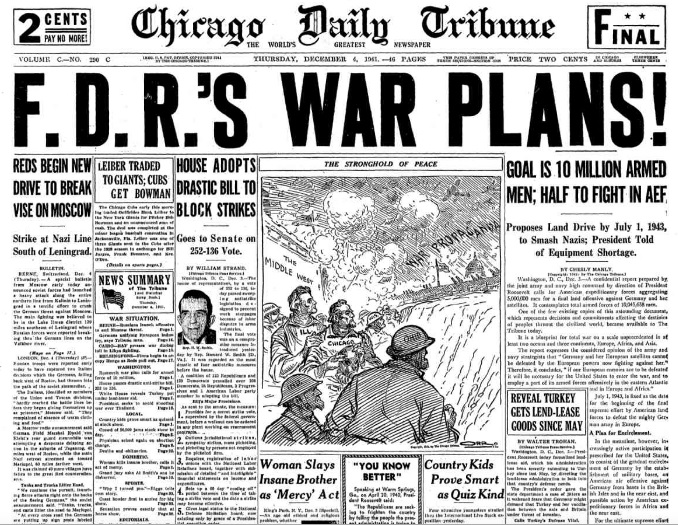 Seventy-five years ago today, America's entry into the war was three days away, but the signs were clear that it was coming soon. The Chicago Tribune, December 4, 1941, carried this headline of FDR's plans for war.
The front-page cartoon makes clear that the paper was decidedly in favor of neutrality and opposed to intervention. It shows a Midwestern bastion of peace, looking with alarm at what it viewed as pro-war propaganda from Washington.
The war plans, consisting of documents from the War Department and letters from the administration, had been obtained by the paper and the contents were disclosed. It showed the likely enemies as Germany, Italy, Spain, and Japan, and anticipated theaters of war in both Europe and the Pacific. It also stressed the importance of maintaining solid relations with the republics of the Americas, since trade with both Asia and Europe would probably be cut off for the duration. It called for ten million American men to take up arms, with half of those to serve in an Expeditionary Force to Europe, with a ground offensive slated to begin in 1943.
Another cartoon in the same issue of the paper restated what the paper viewed as Midwestern pro-peace values, insisting that we raised our cattle, and not our sons, for slaughter.