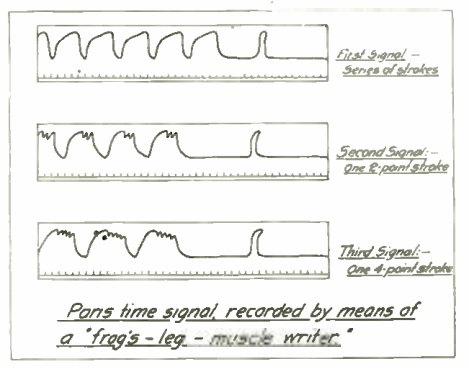 Here's a picture of the time signal coming from the Eiffel Tower a century ago, as shown in the September 1916 issue of Wireless Age.
They were the results of experiments by one Dr. Lefeuvre, professor of physiology at Rennes University. The experiments were apparently carried out a few years prior, before the war, since they were also reported in the February 1913 issue of Popular Mechanics.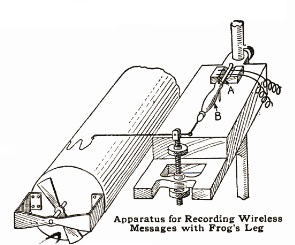 The Eiffel Tower signals were received at a distance of 230 miles, and most remarkably, the mechanism for recording them was a frog's leg, using the apparatus shown here.
Even though Prof. Lefeuvre conceded that there was no practical application to his system of "muscle writing," it was regarded as a highly interesting laboratory experiment.
The sciatic nerve of the leg, cut below the knee, was spliced into the audio output of the receiver, with one end of the leg pinned securely to a base, and the other end connected to a lever. A pen recorded the impulses on the rotating drum.
Unfortunately, the "frog's leg and its nerve do not retain their sensitivity very long," precluding commercial application.
The experiment was, of course, an updated version of Luigi Galvani's 1780 experiment showing the frog legs could be made to twitch by application of static electricity.   Aspiring young mad scientists could probably develop an interesting science fair project along the same lines.  Instead of the Eiffel Tower time signals of a century ago, modern students in America could use the signals generated by WWV.  The now common "atomic clocks" rely on signals from sister station WWVB.  A bright student could quite easily construct a similarly accurate version, using the same user interface developed by Galvani over two centuries ago.  You might get some inspiration from this video:
Click Here For Today's Ripley's Believe It Or Not Cartoon