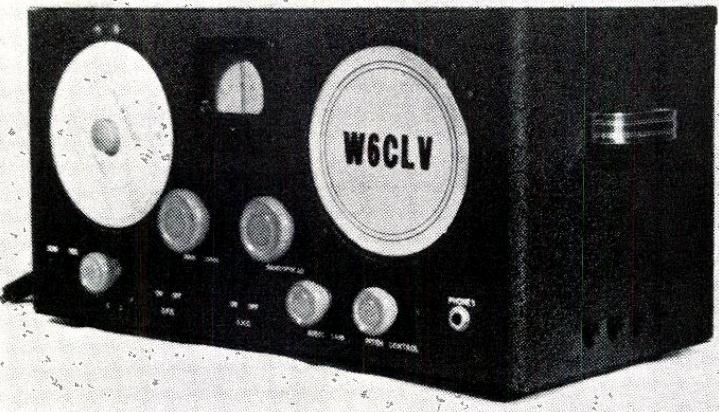 The Hallicrafters S-19R Sky Buddy receiver came out in 1939. This six-tube receiver tuned the broadcast band up to 44 MHz, and sold for a relatively modest $29.50. The set contained a power transformer. The receiver functioned adequately for hams, in addition to serving as a decent shortwave broadcast receiver.
Lloyd Broderson, W6CLV, of Salinas, California, owned one of these for his station receiver, but decided to add a few improvements, which he documented in an article in the August 1941 issue of Radio News.
His first changes were cosmetic. Apparently dissatisfied with the looks of the black control knobs, he decided to paint them a different color. Similarly, the black screws were replaced with nickel plated screws. Carrying handles were also added. He also replaced the speaker grille with a silver colored version, personalized with his call letters.
His first electrical improvement was the addition of some tip jacks which could allowed the receiver's power supply to be used for other equipment. These jacks provided a handy source of 6.3 and 220 volts.
With these mundane improvements taken care of, he set about adding a transmitter to the set. He noted that plenty of space was available inside the cabinet, so he added a 40 meter transmitter, employing a 6L6. While his onboard transmitter was for 40, he noted that with different crystal and coil, the same idea could be used on other bands. An end-fed antenna was connected to the transmitter output through a mica condenser.
The transmitter input was limited to about five watts, the limiting factor being the power transformer: "Any attempt to load the 6L6 to more than 25 ma. will result in the transformer becoming excessively warm." He noted that a larger transformer could be added and the power increased several times. But as many QRP'ers have discovered, the 5 watts proved quite adequate, and the author reported working all U.S. call districts, as well as stations in the possessions.
The final modification was the addition of a code practice oscillator. This was done by keying the BFO with the set tuned to a broadcast station. He noted that "many of the boys now joining the Signal Corps have learned the code by using a similar arrangement."
The author also reported that the newly minted transmitter-receiver could easily be taken to the field.
Click Here For Today's Ripley's Believe It Or Not Cartoon