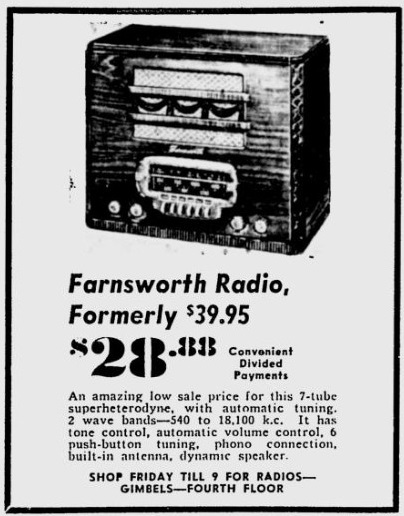 Seventy five years ago today, the August 28, 1941, Milwaukee Journal carried this ad from  Gimbels Department Store for this Farnsworth 7-tube set for $28.88.
The set appears to be Farnsworth Model AT-50.  In addition to covering the broadcast band, it had one shortwave band from 6-17 MHz to pull in war news from Europe.  Despite what the ad says, the tuning range is not continuous, and didn't cover the lower shortwave band or police band.  It was a superhet with one RF stage, and had a tube lineup of 6SK7, 6A8GT, 6SK7, 6SQ7, 6H6, 25L6GT, and 25Z6GT.  It featured pushbutton tuning with six broadcast band presets.
A surviving example of the set can be found at the Radio Attic Archives.
Click Here For Today's Ripley's Believe It Or Not Cartoon