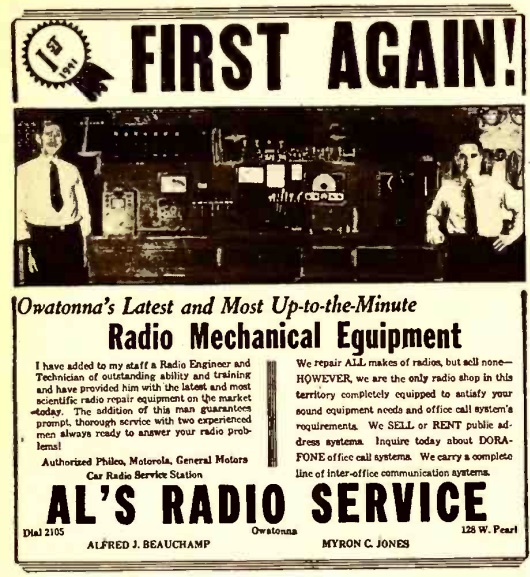 This ad for Al's Radio Service of Owatonna, Minnesota, was reproduced in the Mailbag column of the August, 1941, issue of Radio Craft magazine,
along with a letter from the shop's proprietor, Alfred J. Beauchamp. He reported being a regular reader of the magazine for eight years, during which time he saw many different service shops pictured. However, he reported that he hadn't seen one that was as modern, up-to-date and complete as his. He asked the magazine to run his ad as a challenge to other servicemen readers. The editor obliged, but also noted that one motivation might have been "as a free ad?–Hi!"
The ad noted that Beauchamp had recently added to his staff a radio engineer and technician of outstanding ability and training. That individual was presumably Myron C. Jones, whose name appears next to Beauchamp's in the ad. The ad noted that Al's repaired all makes of radios, and was an authorized service station for Philco, Motorola, and General Motors car radios. While the shop did not sell radios, it was the only shop in the territory completely equipped to satisfy sound equipment needs, and had public address systems for sale or rent, as well as Dorafone office call systems and other inter-office communication systems.
The shop was located at 128 W. Pearl, Owatonna, Minnesota.
Click Here For Today's Ripley's Believe It Or Not Cartoon