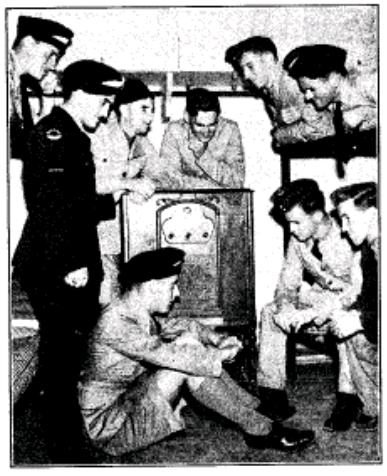 This 1941 photo shows servicemen stationed in Canada from Australia and New Zealand gathered around the radio at 9:00 on a Sunday morning to listen to "The Anzac News Letter," a weekly program provided by the CBC and the Australian Broadcasting Commission.
The Australian and New Zealand airmen shown here were attending wireless chool in Canada. The program originated in Australia and was sent by cable to Ottawa where it was recorded. The program was well received by the Anzacs. One wrote, "personally, I consider it the most interesting session on the radio, and I feel sure that the majority of Australians in this camp hold similar views. In the normal course of events it takes four to five weeks for the home newspapers to reach camp, so you can imagine how much we appreciate receiving news within twenty-four hours of the events taking place."
The photo appeared in the August 1941 issue of Manitoba Calling, the magazine and program guide of CKY in Winnipeg, which carried the program.
Click Here For Today's Ripley's Believe It Or Not Cartoon