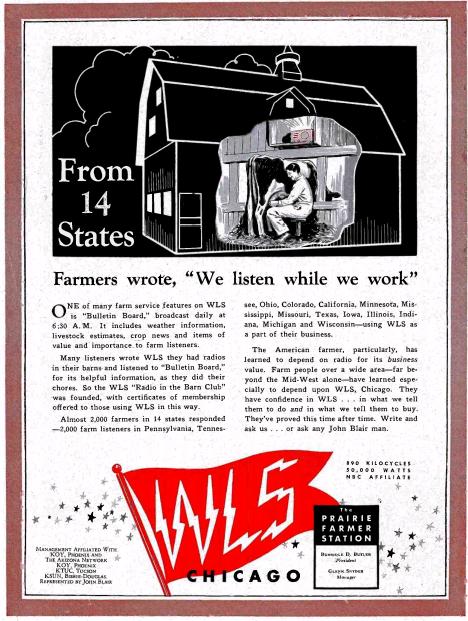 WLS Chicago billed itself as the Prairie Farmer Station, as shown in this ad that appeared in Broadcasting magazine 75 years ago today, July 28, 1941.
The ad reported that the station's Bulletin Board program at 6:30 AM included weather, livestock estimates, crop news, and other items of interest to farmers. Many farmers wrote to the station to report that they had radios in their barns and listened as they did their chores. In response, the station formed a "Radio in the Barn Club" with certificates of membership.
Certificates were issued to almost 2000 farmers in 14 states: Pennsylvania, Tennessee, Ohio, California, Minnesota, Mississippi, Missouri, Texas, Iowa, Illinois, Indiana, Michigan, and Wisconsin.
The WLS call letters were first used in 1924.  At the time, the station was owned by Sears, and the station's call letters boasted the World's Largest Store.  The station was sold to Prairie Farmer magazine in 1928, which owned it until the station was sold to ABC in 1960.
Click Here For Today's Ripley's Believe It Or Not Cartoon