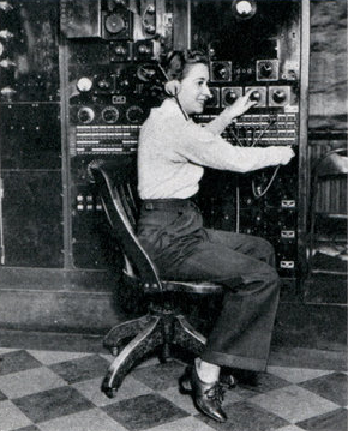 Eighty years ago, this month's issue of Modern Mechanix, June 1936, featured eighteen-year-old Eleanor Thomas, the assistant engineer of stations W9XBY and W9XAL, Kansas City, Missouri. Billed as a "mathematical genius for a girl," Miss Thomas reportedly found life on a college campus too prosaic, and instead entered an engineering school, namely the training division of First National Television, Inc.
First National Television was the licensee of the two stations. According to its 1934 QSL card, W9XBY was one of four "high fidelity" stations operating in the United States, just above the top end of the standard broadcast band, which then extended to 1500 kHz, at 1530 kHz. The 1000 watt station operated from the 29th floor of the Power and Light Building, and had its transmitter near 86th and Wornall Road.
W9XBY operated as the voice channel for television station W9XAL, one of the first television stations to operate on the VHF band, licensed to operate on 42-56 MHz. While the station was initially a mechanical television station, it had both electronic and mechanical equipment in 1936. By 1939, it was all electronic.
The article noted that Miss Thomas was the "youngest member of her sex ever to pass the difficult examinations for a first class operator's license from the Federal Communications Commission.
More information about the station can be found in the July 1991 issue of Popular Communications.
Click Here For Today's Ripley's Believe It Or Not Cartoon