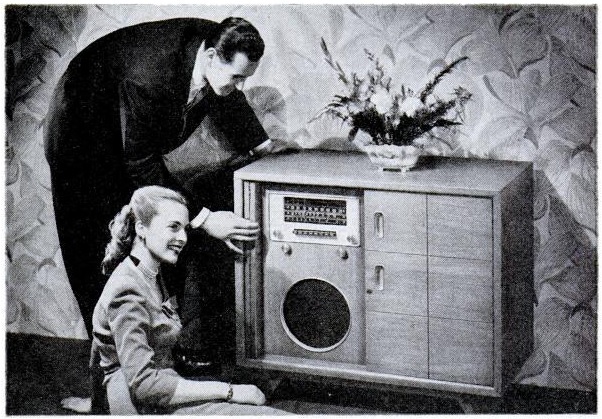 Shown here from the May 27, 1946, issue of Life Magazine are newlyweds Sally and Ed enjoying their new Stromberg-Carlson New World console. The magazine advertisement describes it as one of the magnificent radio-phonographs as new in performance as in cabinet styling. The picture was just part of a short drama presented by the ad. Dad (apparently Sally's father) was almost the forgotten man. Sally and Ed were about to be married, and Dad was resigned to the fate of fathers–paying the bills and keeping out of the way.
But then he remembered how much Sally enjoyed her smart little Stromberg-Carlson Vagabond portable. And then he thought about how much Ed loved music, and how fond he was of his own family's recent purchase of a Stromberg-Carlson Empire console.
So Dad became the real best man by presenting Sally and Ed with their very own Stromberg-Carlson console. The ad reminded the reader that they could do the same and become the hero of any wedding, birthday, anniversary, or any other occasion.
Click Here For Today's Ripley's Believe It Or Not Cartoon