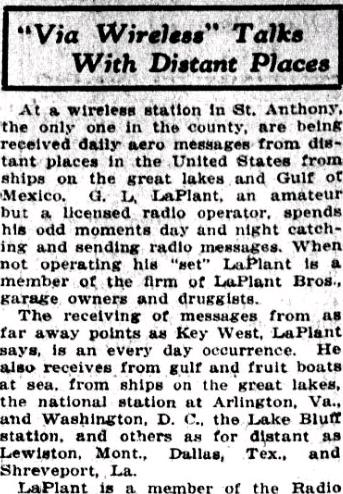 A century ago today, the novelty of having received a wireless message from an amateur radio operator prompted an Iowa newspaper editor to investigate. The following item appeared in the Marshalltown Evening Times-Republican, March 28, 1916.
"Via Wireless" Talks With Distant Places

At a wireless station In St. Anthony, the only one In the county, are being received dally aero messages from distant places In the United States from ships on the great lakes and Gulf of Mexico. G. L. LaPlant, an amateur but a licensed radio operator, spends his odd moments day and night catching and sending radio messages. When not operating his "set" LaPlant is a member of the firm of LaPlant Bros., garage owners and druggists.

The receiving of messages from as far away points as Key West, LaPlant says, is an every day occurrence. He also receives from gulf and fruit boats at sea. from shlps on the great lakes, the national station at Arlington, Va., and Washington, D. C., the Lake Bluff station, and others as for distant as Lewlston, Mont., Dallas, Tex., and Shreveport, La. LaPlant is a member of the Radio League of America, whose members promise to give thetr services as radio operators or their station to the government whenever the government wants either.

A good roads wireless telegram, sent out to all commercial clubs In Iowa by Charles Van Vlecli, of the Waterloo Commercial Club, was received here this morning, having been relayed by mail from the St. Anthony wireless station.

The message was sent out Saturday night and reads:

"There Is a general demand for good roads in Iowa now, so pull her out of the mud this year."

The message Was started at Waterloo at 11 o'clock Saturday night, and reached St. Anthony at ll:ll. St. Anthony station Is 9KT and Waterloo is 9QF in the Amateur Wireless Association. The messages were sent under the auspices of the Hawkeye Radio Association.

Mr. LaPlant has offered to send a message from here to any part of the state, if arrangements can be made. He suggests that the Y. M. C. A. of this city should install a set for the entertainment as well as instruction of young men who would be Interested.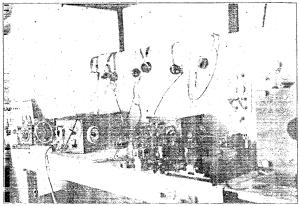 As the article notes, LaPlant's call sign was 9KT.  According to the 1915 Call Book, his station put out a respectable 990 watt signal from St. Anthony.  The photo of the station shown here appeared in the April 1916 issue of QST.  This illustration shows the receiving station, and the caption notes that since the picture was taken, and RJ8 audion and an ultraudion hook-up had been added.  The transmitting station, not shown, is described as "well-equipped."
The station was shown again in QST the next year, in the April 1917 issue, with the photo shown below.  The caption notes that "we have been able to follow the improvement of his set and now it has reached a very high state of development."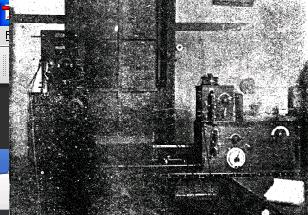 Click Here For Today's Ripley's Believe It Or Not Cartoon