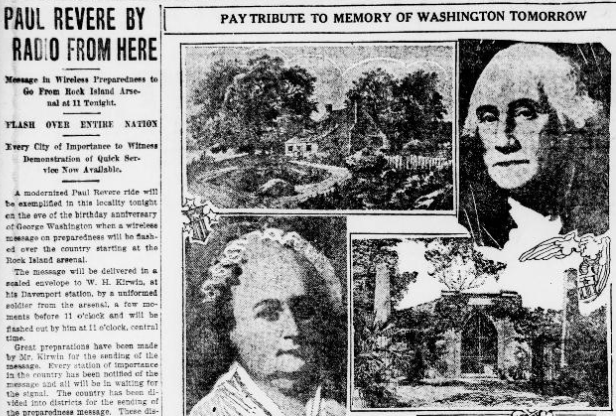 A hundred years ago today, American radio amateurs showed that they could successfully relay a message coast to coast, as part of the Washington's Birthday relay.  At 11:00 PM Central Time on February 21, 1916, a soldier from the Rock Island Arsenal delivered a sealed envelope to W.H. Kirwin, 9XE, in Davenport, IA. By pre-arranged routing, the message was flashed across the country in a matter of minutes.
The message from the commander of the arsenal was delivered to the governors of the several states, to the mayors of large cities, and even to the White House.  The message read as follows:
QST QST QST DE 9XE

A Democracy requires that a people who govern and educate themselves should be so armed and disciplined that they can protect themselves.

(Signed) Colonel Nicholson, U.S.A.
References