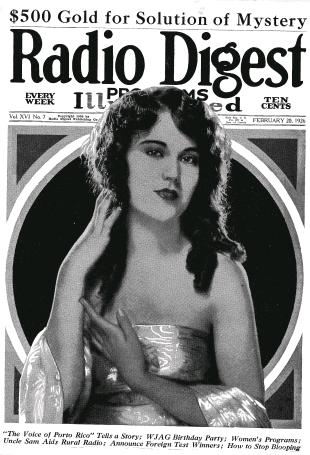 Ninety years ago, this date's issue of Radio Digest, February 20, 1926, featured this picture of eighteen year old Fay Wray, who is probably best remembered for her role in the 1933 film King Kong.
Her fame on the cover of this magazine was a result of her being named one of the thriteen WAMPAS Baby Stars for 1926, in a program broadcast by KNX in Los Angeles.  The honor was conferred by the Western Association of Motion Picture Advertisers, which each year honored thirteen young actresses believed to be on the threshold of stardom. Other familiar names in the class of 1926 included Mary Astor and Joan Crawford.
Canadian-born Wray resided in Hollywood, and had appeared in a number of minor roles. After the recognition brought about by the WAMPAS award, she was contracted by Paramount, where she made more than a dozen movies. Her most famous role in King Kong was for RKO.
She died in New York in 2004 at the age of 96. Two days later, the lights of the Empire State Building were extinguished for fifteen minutes in her memory.