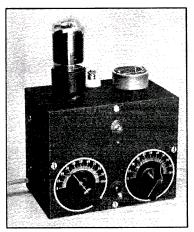 75 years ago this month, the January 1941 issue of QST contained the plans for two one-tube transmitters, both using the recently introduced 117L7GT tube. The tube was ideal for a simple transmitter, since the filament ran directly off line current, and the envelope contained a rectifier and beam-power tetrode. Thus, the set could operate directly off line current, with no transformer required. The set shown above was made by R.T. Lawrence, W8LCO, of Dayton, Ohio. The schematic below is the similar set made by Keith Hayes, W9ZGD, of Milwaukee, Wisconsin.

Either set could be easily reproduced, with minimal part substitutions, from readily available components.  It should be noted that neither of these transmitters has much in the way of output filtering, so it would probably be necessary to add an output filter to comply with modern regulations.
In his article, W9ZGD reports what many modern QRP'ers have rediscovered:
Although 4 or 5 watts doesn't sound like much input, it is surprising what one of these little transmitters will do, particularly to one who has never tried anything like it before. Possibley, according to tradition, I should list the stations worked but, since the antenna, receiver and operating ability affect the statistics as much as the transmitter power, I'll just mention the fact that 5 watts give a signal about one "S" point lower than 20 watts and 2 "S" points lower than 80 watts. And, anyway, it's more fun to fish with barbless hooks!
The W8LCO QSL card shown here is from the builder of the transmitter
shown at the top of the page. The QSL was for a contact a few years earlier, in which he reports running 24 watts input.