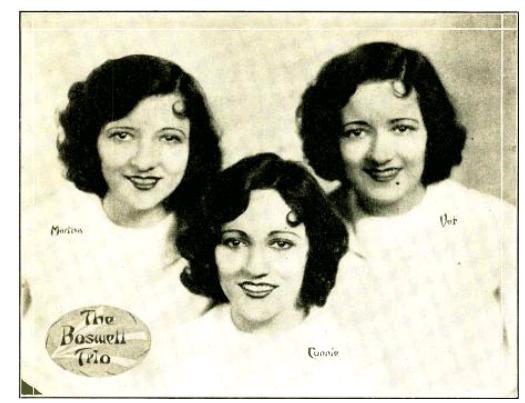 This photograph of the Boswell Sisters appeared 85 years ago in the January 1931 issue of What's On The Air magazine.  They were then appearing on NBC's Camel Pleasure Hour originating in San Francisco.
The sisters Martha (1905-58), Connie (later spelled Connee, 1907-76) and Helvetia "Vet" (1911-88) grew up in New Orleans where they studied classical music, but their mother also made sure that they were exposed to the African-American music the city had to offer. They were well known performers in New Orleans in their young teens, and in 1925, they made their first recording. The landed in California in the late 1920's. After their NBC appearances, they moved to New York, where they had a program on CBS from 1931-33. The sisters were also shortwave pioneers, appearing in 1932 in the first broadcast of "Hello, Europe," a CBS program beamed to Europe.
They also appeared in a number of films. One of the earliest uses of the phrase "Rock and Roll" was their rendition of a song by that title in the film Transatlantic Merry-Go-Round in 1934, performed here:
Even though they are not well known today, the Boswell Sisters did have a lasting impact on American music. The Andrews Sisters started out as imitators of the Boswell Sisters, and a young Ella Fitzgerald was a great fan and patterned her own singing style after Connie Boswell.
Listen at Amazon
Click Here For Today's Ripley's Believe It Or Not Cartoon