Today marks the 100th anniversary of the sinking of the SS Persia, with the loss of 343 lives among the 519 aboard.  Without warning on December 30, 1915, off the coast of Crete, the ship was torpedoed by Captain Max Valentiner commanding the U-boat SM U-38.
The passenger ship carried no troops or war materiel of any kind. The 499 foot ship went down in about five minutes in 10,000 feet of water.
The captain's wife was en route to Malta to spend the winter with her husband, and was advised by wireless of his death.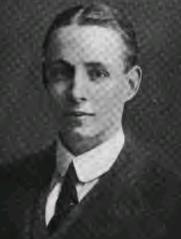 Among the dead was Marconi wireless operator George Henry Dewey, shown here. After finishing his education, he had initially entered the post office as a telegrapher and clerk, and then studied at the British School of Telegraphy and entered the service of the Marconi company. In his short career, he had served aboard five other ships before his appointment to his position aboard the Persia.
The ship carried a large quantity of gold and jewels belonging to the Maharaja Jagatjit Singh,  who had previously disembarked at Marseilles. Despite the ship being located in 2003 and some artifacts being recovered, that treasure still lies at the bottom of the Mediterranean.
Also among the dead was actress and model Eleanor Thornton. While her name might be unfamiliar, she is widely recognized, since she served as the model for the "Spirit of Ecstasy" hood ornament that adorns every Rolls Royce.
U-boat Captain Valentiner was labeled a war criminal for sinking the civilian ship without warning, and between the wars, he lay low under an assumed name. He returned to the Kriegsmarine during World War 2, where he was the group commander of the U-Boots-Abnahmekommision (UAK) in Kiel-Danzig. He died in 1949 of lung disease, probably caused by the inhalation of toxic vapors aboard the U-boats.
References
Click Here For Today's Ripley's Believe It Or Not Cartoon