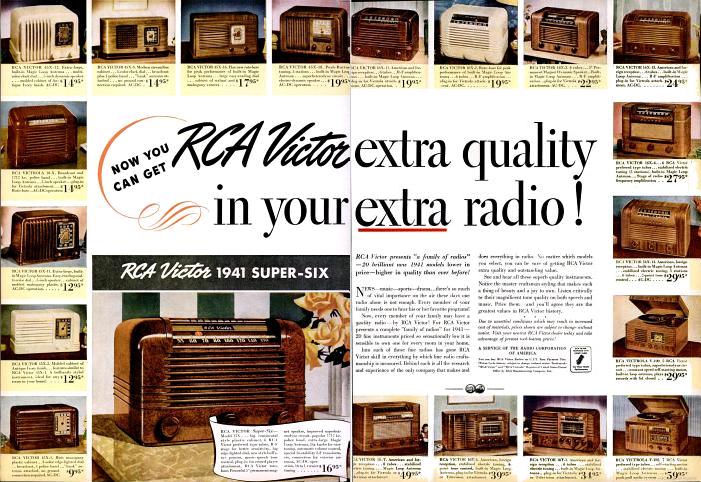 75 years ago today, the October 21, 1940, issue of Life Magazine carried this two-page ad showing what would be some of its last prewar radios, from the company's 1941 model year. The ad points out that even for your home's extra radio, you can get RCA Victor quality at a low price, since the models start with the the model 45X-1, later dubbed the "Little Nipper," for $9.95.  This inexpensive set was billed as having, in addition to standard broadcast, "one police band." A closer inspection reveals, however, that the "police band" means only that it tunes above the standard broadcast band to 1720 kHz, so that police calls in many cities could be heard at the top of the standard AM dial.
Families wishing to tune in to foreign broadcasts with their "extra" set could do so for as little as $19.95 with the model 16X-11, which tuned standard broadcast and one short wave band. Many of the sets featured a "plug-in for Victrola," meaning that an external phonograph could be added. The least expensive combination radio-phono was the model V-100 for $29.95.
With the end of civilian radio production on April 22, 1942, virtually all of these sets would see service for the next five years, providing war information to their owners.