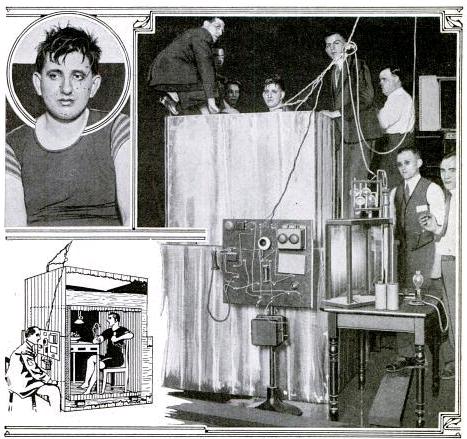 A hundred years ago this month, Popular Mechanics, September 1915,
covered the experiment shown here, testing a system for purifying air aboard submarines. The inventor is shown in the upper left, but his name is not given. Under supervision of American and Russian naval experts, the inventor was sealed into a small box, which was then submerged into a larger tank. The tank reportedly contained only a 30 minute supply of air, but the test lasted seven hours, after which the tank was drained and the box opened, the inventor suffering no ill effects.
In addition to food, reading material, and a bench and table, the inventor entered the experiment with an unnamed chemical. He periodically tested the air, and if he discovered the carbon dioxide level was too high or the oxygen level too low, he released a supply of the chemical. The unnamed chemical reportedly absorbed the excess carbon dioxide instantly and released oxygen.
It's likely that the chemical was Oxylithe, which had been invented in 1907 by Swiss Professor Georges Jaubert. Like the unnamed chemical in the Popular Mechanics experiment, Oxylithe absorbs carbon dioxide and emits oxygen. It was first used by the Royal Navy in 1909 as part of an escape apparatus, but was never used in submarines. Oxylithe was a form of sodium peroxide (Na2O2) or sodium superoxide (NaO2). Similar designs were used through World War 2 in rebreathers.
As shown in the illustrations, the chamber used in the 1915 test contained an electric light and fan, as well as a telephone for communicating. In addition, it was equipped with a glass roof through which the subject could be observed throughout the experiment.
Click Here For Today's Ripley's Believe It Or Not Cartoon