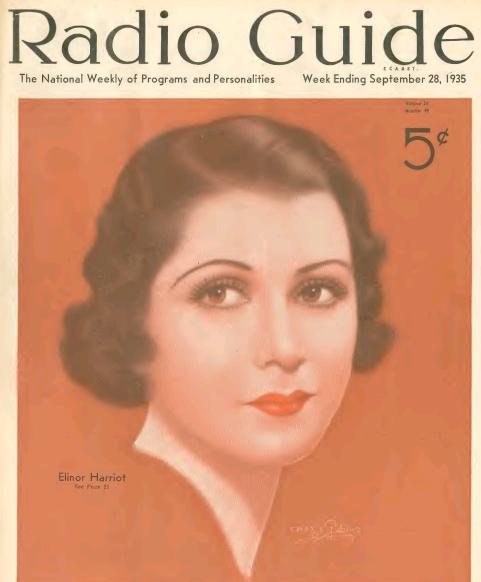 Radio actress and announcer Elinor Harriot is shown here on the cover of Radio Guide 80 years ago today, September 28, 1935.
She was born Eleanor Harriet Hirschfield in Duluth, Minnesota, in 1910. Her mother was a teacher and her father was a Russian Jewish physician who had immigrated to America and 1885 and became a physician in St. Paul before moving to Duluth. Eleanor was interested in acting from an early age, and caught the attention of an agent while performing in a play at Duluth Central High. She attended the University of Wisconsin at Madison, where she met fellow student Don Ameche, who later encouraged her to a career in radio. She stayed in college for only a year before seeking out an acting career.
By 1932, she was in New York, playing a minor role on Broadway when she was called upon with only an hours notice to fill in for the star, Dorothy Gish. Her performance catapulted her to prominence, and in 1933 she moved to Chicago to take acting jobs in radio.
She worked in a number of daily soap operas and other radio shows, as well as serving as the commercial voice for sponsors such as Old Dutch Cleanser and Munsingwear. She signed with NBC in 1935, and a few months after the picture here appeared, secured her most famous role, that of Ruby Taylor, the wife of Amos, in Amos 'n' Andy, as well as other roles.  (The issue of Radio Guide in which her picture appeared reported that she was then with CBS.)
Shortly after the production of Amos and Andy was moved to California, she married in 1937 and left radio. She returned, however, to Amos and Andy in 1943. By that time she was the mother of two daughters and was active in the Beverly Hills community. She was later elected to two terms on the Beverly Hills Board of Education, where she acted to eliminate student dress codes, and was known as a strong proponent of racial equality.
She died in California in 2000 at the age of 89.
References
Click Here For Today's Ripley's Believe It Or Not Cartoon